Air Purifiers for Your Home and Office
Air purifiers are an invaluable tool for combatting airborne odors, mold, germs, and other allergens. Fresh-Aire UV's APCO line of air purifiers use a unique combination of UVC light and activated carbon cells to clean air in just a few hours of operation, as shown in lab studies. We install a range of sizes and types of purifiers, perfect for either the home or a larger commercial space.
Fresh-Aire UV purifiers function via a matrix of activated carbon cells. These ozone-free cells collect odors and microbes which are then purified via exposure to UV light. The whole system is virtually maintenance-free as the carbon cells clean themselves and the UV lights last for years.
While Fresh-Aire's APCO purifiers are designed for larger ducts and spaces, the APCO RT purifiers are meant to fit in the smaller ducts of your home's central air system, making them the perfect options for families.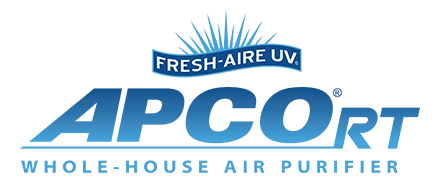 If you value fresh, clean air in your home or office, in-duct air purifiers are a fantastic, cost-effective, and low-maintenance option. For more information, download our air purifier brochure or call our office (301-990-0780) or Kyle (301-674-8192).